It's now mid June, with an early summer solstice and a rare accompanying solar annular eclipse, unfortunately not visible from my current location. Nine months since the Chicago Wang Li Ping retreat. If you have not read Part 1 of this article I suggest you do so now. You will need the information in the earlier part to put this second part in context.
My impression after about the 6th day of the retreat was that this was indeed an entirely different level of practice than I had experienced over the previous 17+ years. Things had been building since around 2012. That was the year of the big international retreat at Jin Hua (the last one in fact). I wrote about this in an earlier article. After that retreat I returned to Tao Garden in Thailand. I was horribly ill for 5 days over the New Year. By late January it was obvious there was a serious virus loose. Panic among Chinese tourists at Immigration in Chiang Mai was my first-hand experience of the impact. That was mid February. On March 11th I flew home, 1 day before the panic really hit North America.
10 Months later…..
OK, so now it's March 9th, 2022. Santorini and I survived another winter alongside near Vancouver. The river froze for 2 weeks, floods and wind dominated most of December and January. I hunkered down under the cover. There is war in Europe, who would believe it. No one knows where it is going. The pandemic and associated health measures are winding down, So….
I'm considering offering a program of study and practice aboard Santorini.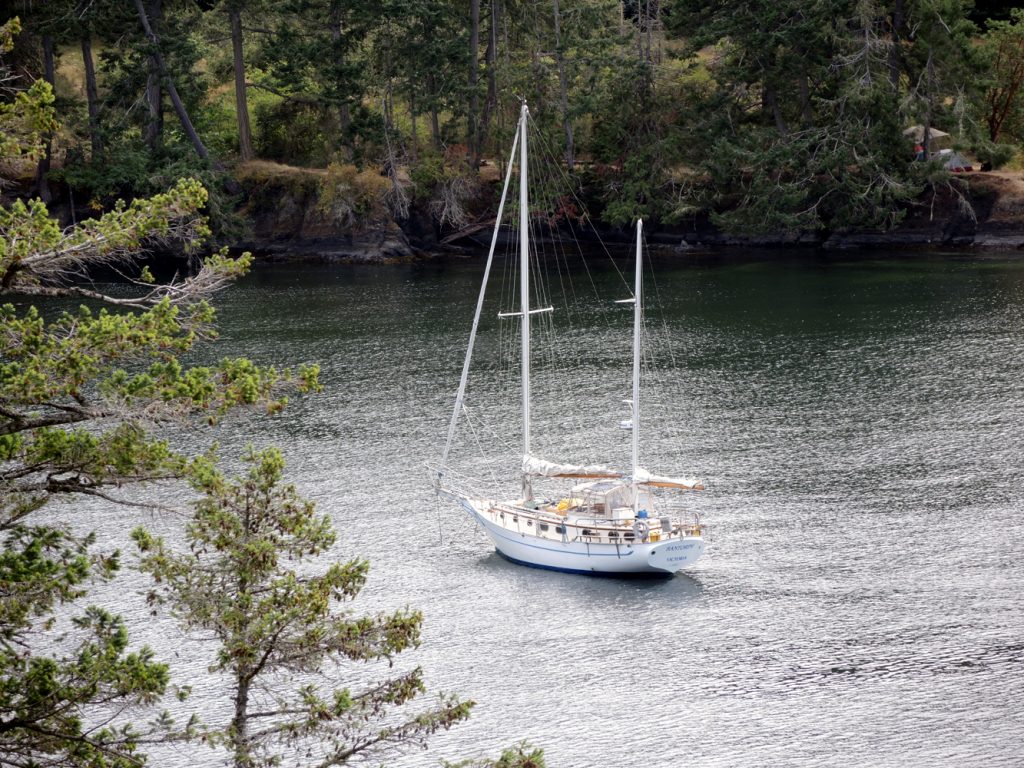 I've spent the last 3 summers exploring the possibilities for natural practice in the rainforest. In all I've spent over 4 months including a 7 week intensive last summer finding natural energy locations over a 200 mile stretch of basically primordial wilderness. I now feel I know the terrain.
Santorini is a 41 ft (13 metre) center cockpit ketch. Designed by Bill Garden, built in Taiwan by Formosa Boat Building in 1978. I spent 5 years restoring her to near original condition. She had already been twice around the Pacific, including the New Zealand and Australia when I bought her. I am the 5th owner.
I'm starting a new page and category devoted to the teaching and practice initiative. Currently there is no schedule or definite plan. Routine, objectives can be tailored to a small group's needs. Santorini has three cabins, two heads (WC's or ahem, toilets) each with a shower. There are potentially bunks for 7, (two doubles), but a group of 4-5 is ideal. More details are available to sincerely interested individuals.